WELCOME TO THE WORLD
OFMONEY, POWER & SEX
The Series
Get the series in chronological order starting with Donovan, A Money, Power & Sex Story
A Money, Power & Sex Story
DONOVAN
The prequel to the book that started it all. Find out what Donovan was doing before the events of Money, Power & Sex.
A Love Story
MONEY, POWER& SEX
Nichelle has everything she's ever wanted a successful loving boyfriend In Lucas and growing career as a marketing executive. Lucas has all he's ever wanted in Nichelle true love. Donovan has lost everything and is trying to regain a foothold in the world. Ronnie has more than anyone could desire beauty brains and success but even on top of the world there is always more. What happens when the desire for everything and the hunger of having nothing collide?Four Lives, four separate motives, one unbelievable outcome. Follow this twisting tale, full of romance, action, suspense and drama. Watch each person desperately try to reach their desires and discover why they are willing to sacrifice whatever it takes to answer one question. How far are you willing to go for Money, Power and Sex?
A Money, Power & Sex Story
SEDUCTION
Kendra Daniels had all she's ever desired; a great job in Houston and an even better relationship. But after losing out on a promotion to her rival, turned friend; and being transferred back to her hometown of Richmond, both her career and her love life are in doubt. Frustrated with work and growing increasingly suspicious about her lover Marcus, she decides to take a vacation to the isle of St. Martin where she meets Desmond, an attractive, mysterious man, with an even more curious profession. But temptation is only the beginning of this story, one which will certainly change Kendra forever. Picking up directly following the events of Money, Power & Sex this engaging, enticing, and erotic tale will reveal an indisputable argument: If love is king, then seduction is power!
A Money, Power & Sex Story
RONNIE
Ronnie is back and she's up to her old ways. Directly after the events of Money, Power & Sex and Seduction comes an all-new saga featuring the woman you love to hate.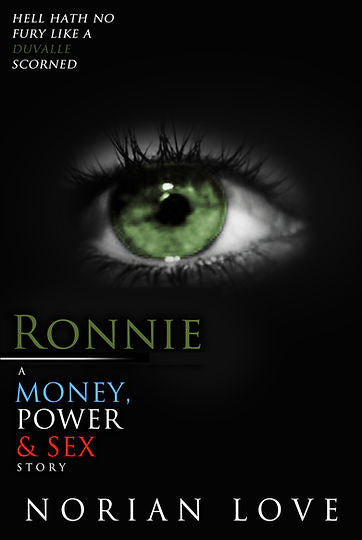 The Scent of Deceit
MONEY, POWER & SEX II
You've waited long enough.